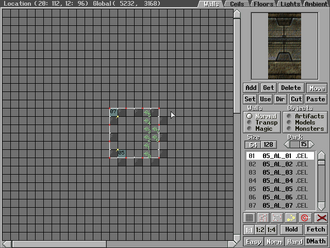 The Chasm Level Editor came with the retail CD version of Chasm: The Rift. It allows for editing and creating levels. No user content made with this editor has been found online, however.
The level editor allows editing of a level's walls, ceilings, floors, lights, ambient sounds, objects, links, and processes.
When creating a new level, the editor gives a choice of three different themes: Techno, Egypt, and Medieval.
The editor has a preview box at the upper right of the screen for displaying graphics. The box displays the appearance of any selected textures, objects, and monsters.
Ad blocker interference detected!
Wikia is a free-to-use site that makes money from advertising. We have a modified experience for viewers using ad blockers

Wikia is not accessible if you've made further modifications. Remove the custom ad blocker rule(s) and the page will load as expected.