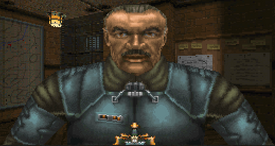 Simply referred to as the
Commander
, his game role was to brief the player before the first few missions. He told players their objectives, as well as a short history on the current problem. He appeared as an older, balding man in a blue military uniform and seemed to be highly decorated, having numerous medals and badges on his uniform. After defeating the
Sarcophagus
, the player's
Marine
is informed by the Commander's assistant,
Strickland
, that the Commander was killed during a Timestriker attack at their headquarters.
The Commander was voiced by Robert Sallade. The voice acting by both characters was poorly received.
Appearances
Episode 1 - The CondemNATION
Ad blocker interference detected!
Wikia is a free-to-use site that makes money from advertising. We have a modified experience for viewers using ad blockers

Wikia is not accessible if you've made further modifications. Remove the custom ad blocker rule(s) and the page will load as expected.